Episode 38 – How to Adjust Your Cash Flow Post-Pandemic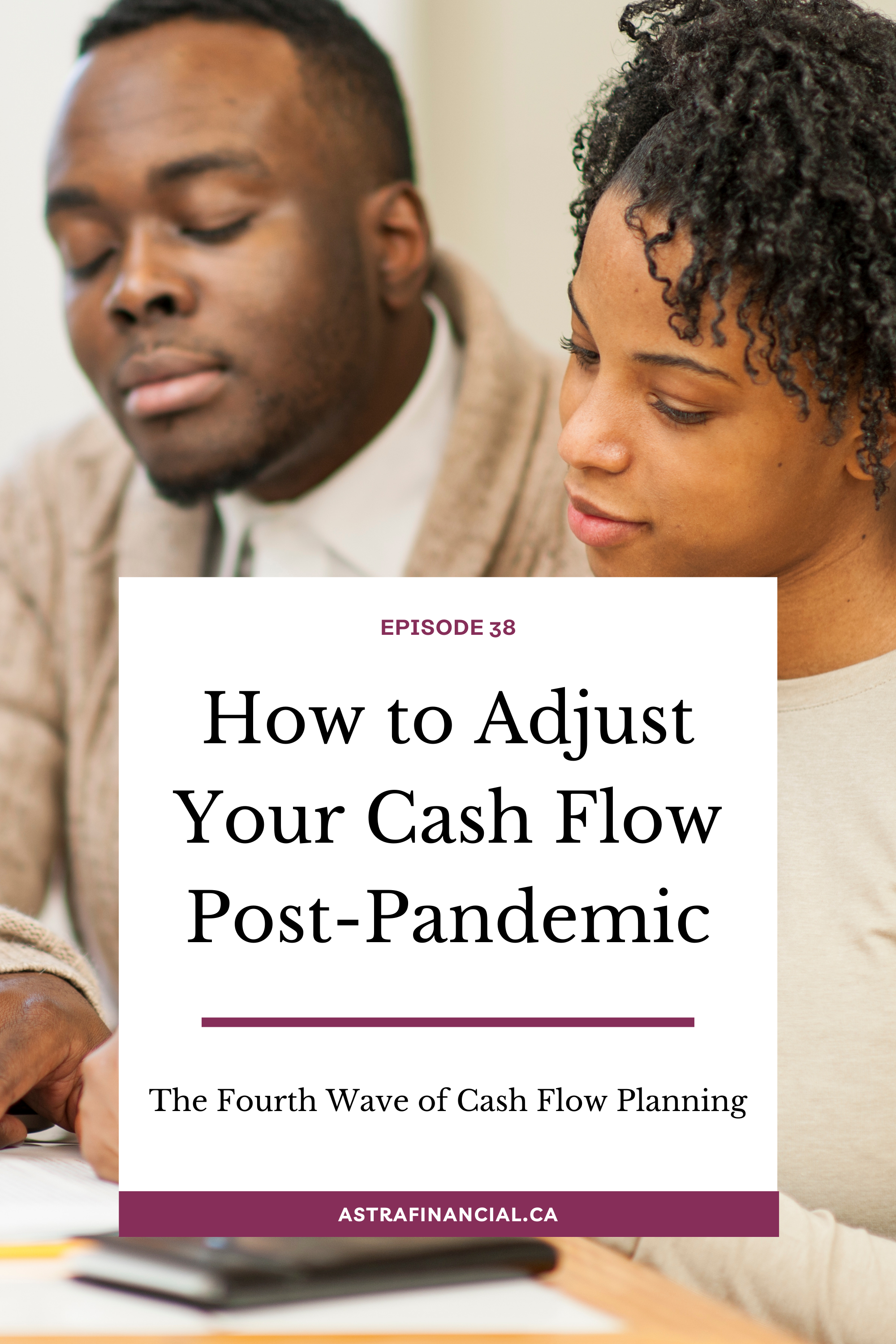 The COVID-19 pandemic has changed pretty much every aspect of our lives over the past 20 months, including our spending. We're spending less on entertainment, cooking at home more and not using those pricey gym memberships.
Have you given any thought to what will happen with your spending habits when things reopen? Think about it: suddenly you're back in the office, which means lunches out and coffees. You're tired of working out at home so you reactivate that gym membership. Or you need to make up for RSP contributions that you put on hold during the pandemic so you could have access to cash if you needed it.
Now that things seem to be normalizing a bit, it's time to get back to a normal routine with your finances too.
Show Notes:
Hey there and welcome back. This is episode 38. Let's talk about cash flow post-pandemic, or maybe I should just call it the fourth way of cash flow planning. Things have opened up. Kids are back to school. Workplaces are starting to bring people back and that means our wallets are going to be opening up a little bit more too.
We've had an unprecedented year of less spending. I can say that in our office we've had people stop piling cash savings. We've had retirees taking out less than they need because they're just holding onto so much cash. When I talk to them, it's because they haven't had trips or their usual spending on entertainment, activities, the golf trips, the socializing with people, heading out – it's not happening.
People fortunate enough to have good jobs during the pandemic and working from home have also spent a lot less. So as things start moving, getting busier, are you worried about what your cash flow will look like? And more importantly, if you haven't thought about it, we should probably revisit it.
Do you have an accurate grasp on the upcoming years' spending and savings habits that need to happen? I was talking with a friend yesterday and she told me that they've been holding on to so much cash. They got into scarcity hoarding mode because she's self-employed. Rightly so – cash is queen. I love it.
Being worried about business, they cut lots of extras out like holidays and entertainment. She told me they also stopped their retirement savings. We might be in a pause right now, but eventually we're gonna get there. She says they actually have no idea what their cash flow looks like.
They're off routine, they've stopped tracking. They just hoard and hold onto cash. And so, there's doubt and uncertainty when I was talking to her and a little bit of unease and angst about money in the future. So what it did is it really eroded that confidence when there's a system that was working in place. The pandemic affected that.
I'm thinking there might be a bit of shock value and readjustment of getting back on track and trying to figure out a budgeting and saving system for some people when the world opens up. It's going to creep up and we're not going to realize that we're just slowly spending a little bit more.
This is the time to adjust. This is the time to think about cash flow planning and getting in front of our money. As I said, she was feeling angst and uncertainty. This is why this is not only about protecting your money, but also about protecting your emotional health because when it sneaks up and starts to feel a little bit out of control, it is really hard to want to face our money.
Figure out what is your new normal and treat it as short-term. Think about a three-month check-in to see if there is a need for an adjustment. We need to pivot how our system is working. You might have to actually come and do this in the short term when it comes to figuring this out and then you can start to account for if there is more spending happening.
Are we still not spending? Did our lifestyle change? And if that's the case and you're still stockpiling some cash, that is the perfect time to start saving for your future self and stocking it away for down the road. But I sense that we're going to start to see things creeping up, like eating out.
Maybe some entertainment or activities are opening up. I haven't been to a movie in probably two or three years, and I'm not a huge movie-goer, but I'm actually looking for it. I just want to go to a movie theater, put my feet up in one of those recliners, have some popcorn and watch a show. That might start to happen more than it did in the past for me because I've actually been missing it.
The other one is gym memberships. As things start to open up, we might want to change it up. Rather than working from home and doing the workout, we might want to actually go try a couple of new things. So it's about noticing these things, taking a look and seeing if there's creeping in that's happening.
 The next consideration is rebuilding those savings. If you paused any of your usual ongoing contributions and yes, when panic sets in that is the thing that needs to happen, you need to have some of that cash on hand – especially as a business owner. I get it. 
But now it's about catching up, mitigating that and getting it going again. It's about looking ahead, planning how to restart them and how to possibly, if you can, catch up to where you would have been. There's a couple of factors in there about why you might want to catch up and get in front of this right now and that's taxes.
 So if in 2021, you paused your retirement savings and you were used to getting those RSP tax slips to help offset your income. You're going to have a surprise in April when you think, "Now I either owe taxes or where's my refund I always count on."
So this is about just figuring it out right now, starting to think about it and trying to see if you can catch up. We've got time before year-end and it feels good to do this. I remember with my kids, they'd have that project and they were up until three o'clock in the morning pushing to the last limit and stressed out.
I think they finally realized that doing things in advance is better for our emotions and the same thing in finances. 
The next thing you will need to revisit is your financial goals. Start with just the short-term. As I said, treat this as a quarterly short-term thought and then, readjust and talk about the long-term, write them down and see if your money is lining up with these right now. This is a great time to coordinate your goals with your money again and come back to that financial plan.
 Maybe you need to redo and revisit the financial plan because part of that will be some cashflow conversation and you just want to get a grasp and see what it looks like. The other thing we learned during COVID – and I hope it continues – is that emergency cash savings are vital and how good it feels to have some cash on hand during uncertainty.
Maybe you didn't need to use it. Maybe you didn't need to dip into it, but there was a relief during the stress of the pandemic and the unknowing. Maybe you actually had to dip into it to keep things going, but either way, that sweet spot of cash is a lifesaver. So make sure that you're still accounting for that.
Make sure you know what your sweet spot is. The sweet spot is the amount of cash you like to have on hand. It's different for every single person, but remember that cash is queen. On another little side note, I just want to mention that inflation right now – I'm talking this month – has hit a bit of an all-time high and you're going to notice the groceries, gas and other things cost more right now. This isn't a surprise to me.
I'm not an expert in statistics or how they report our inflation but I have a pretty good idea. This isn't a surprise for me about groceries and gas. They've always cost more every single year. The Bank of Canada likes to try and keep inflation around that 2% mark.
If you go into Statistics Canada and you look at the past, the cost, food has always jumped above and beyond inflation. This is just something we just need to factor in all the time. It's going to cost more. I know that your utilities are going to cost more. Your property taxes in our city are going to cost more.
This is just keeping in the back of your head, that when you're revisiting and looking at things, just give yourself a bit of a buffer and add that into your cash flow and goals because things are going to cost a little bit. Today was really just a brief reminder to visit your cash flow and see if it's still on track. 
Start up your contributions again. Get that ball rolling and get in front of it for when our spending starts to pick up again. If you have any questions, send me a note at [email protected].