Episode 27 – What is a Family CEO Organizer?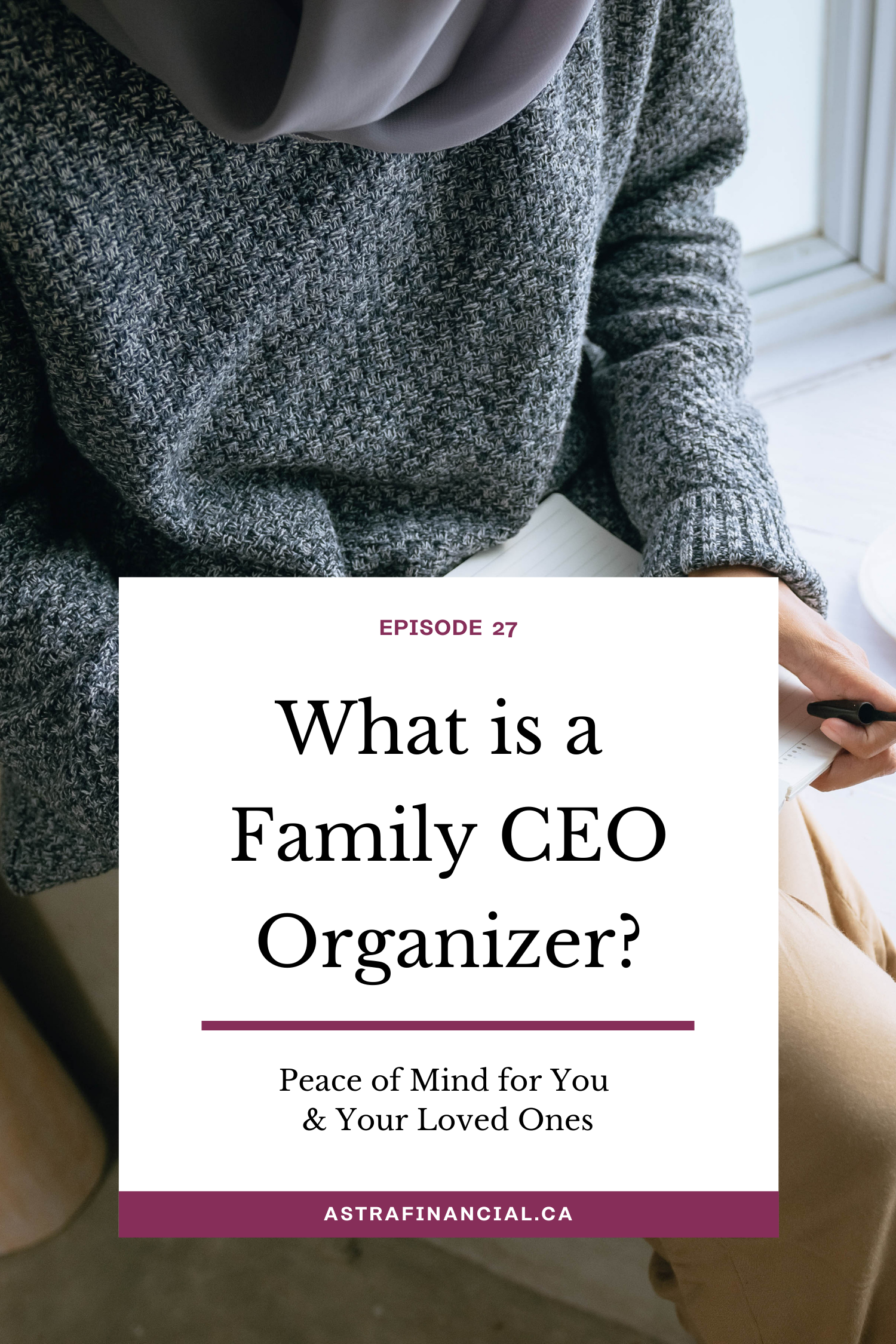 Getting organized is such a satisfying feeling, right? Like when you get your closet all sorted or you get that nightmare of products and impulse buys under the bathroom sink finally put together the way you want it. Well, getting your important information organized feels just as good.
I'm talking about things like your financials, your emergency contacts, account log-ins…everything that you need as the family CEO to make it all happen, and a roadmap for a loved one if they have to take over. In this podcast, I'm telling you all about my Family CEO Organizer, which helps you get it all together in one place and give you peace of mind.
This is a short and sweet episode, but definitely worth the listen so check it out now!
Show Notes:
Welcome back to another round of "Our Heart of Money Talks". This is episode 27. I'm going to talk about something near and dear to my heart. It's the family CEO organizer that I've created. It's a way to organize all of your important life documents in case something were to happen to you.
If something happened, would someone know where all of your accounts are, how to keep paying the bills, how to log into your accounts and notify people? Would someone know what your wishes are? This organizer is something that puts together pieces that I didn't know I needed until a few events in life had happened. I shared my good friend Sherry's story of being a young widow with young children back in episode 24.
That was an eye-opener for needing to know where everything is, where the wills are, where insurance copies are, accounts, credit cards. It was firsthand in the midst of grief and shock that Sherry and I had to find everything that was scattered in different places. It was like a part-time job for both of us.
I can't imagine the grief that she was going through. We met a couple of times a week. We had this big binder, a lot of tears. We can now add a few chuckles. That was a really hard time. It took a lot of work to take care of things. 
So how in the heck could this then be easier for a loved ones?
And that's when I realized that if we have to have one place to store everything. We have to have things documented and it shouldn't be before something bad happens. It also brings peace of mind, I truly think that my grandpa Fred really started the first family CEO organizer. It was really, I think my first experience of seeing how organized a person could be in all the things. Then going through that with Sherry, it really we were able to hone in and realize what are some of the things that we're missing.
It was definitely from grandpa Fred, that I modeled the idea. He was in his nineties when he passed and he put Martha Stewart to shame with his organization. He had a Tupperware filing box. I remember this plastic box and it was files and tabs of everything that someone needed to know to complete his and grandma's estate.
He had guests lists for the funeral, special hymns that he wanted the funeral – wishes down to a T. He also had every bank account, the statements, the will, the insurance, his bills, account numbers, a detailed list of everyone to contact and what an executor would need to settle everything.
What a beautiful gift. Did I mention he was in accounting? That might explain a little bit of his knack for financial organization. So our Family CEO Organizer here at Astra that we created has spots for you to fill in important contacts, accounts, logins, friends, you name it. I'm talking about your doctors, lawyers, accountants, asset information, insurance details and a place to list and track your net worth.
For any of those important documents, there's a checklist in there. There's even a spot for family goals and financial planning, tracking. As things come to mind, you can come back and revisit the organizer. It's an opportunity to track cash flow and set your family goals.
This is a place that you can do that. It's a place to store the wills and everything. One of the most important pieces of this – the part that's near and dear to my heart – is the last section. If something were to happen to me this section is where you really get to reflect and share how you want to be remembered and what your instructions are.
I love this section. Now I know I've said this before, that it might sound kind of morbid to some people, but really the questions in there are really to help guide you about how you want to live your life. While you're still alive and it's a place to have the conversations right now in a really good mood, joking spirit, and go through. You don't have to do it all at once, but it's bringing that conversation up.
We all have a story in our heads. We can think of someone where a surprise came up in life and there was a crisis and something happened and there hadn't been any discussion, and then you're really flying blind in grief. I've put in in mine – and I have shared in numerous podcasts and with anybody that will listen – I would like fireworks at my funeral.
This is where I actually get to put it down on paper. As I think of things that are important to me, I can put them in, but it's also a place for me to write down how I'd like to be remembered. There is a piece in here that is really guiding with that. When I put my head on my pillow and I do take my last breath, did I live the life that I wanted to live? This is a place to document while we're in great spirits.
And while we're alive, how do we want to do that? And then it can be like a guide and a checklist to go through. 
So why would you even want to use an organizer? Most people at some point in time, come into my office and sit across from me and tell me that they just want to make sure they're covering all the bases and they want peace of mind.
Everything is one place and someone knows how to take care of everything if something were to happen to them. But it is also overwhelming to think that you now have to go create all the answers to that all by yourself. So this is your permission to grab a glass of wine, fill out a few sections at a time.
The organizer will guide you through everything that you need to know, give you checklists and ask the questions to slowly tackle it. Then when you're done, go watch a sitcom and move on to go kick butt for the rest of your life. You got this. So until next week, hopefully, you've got your Family CEO Organizer and you're going to tackle it.
We'll talk again next week.