First Woman on the Canadian bank note
$10 Canadian Bank Note
Viola Desmond is considered an icon of human rights and freedom movement in Canada.
She was a successful Nova Scotia business woman known for defiantly refusing to leave a whites-only movie theatre in 1946.  She was jailed, convicted and fined.  Her case was the first known legal challenge against racial segregation in Canada.
The Bank of Canada website shares this on Viola Desmond: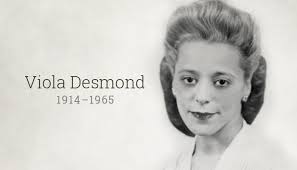 Thriving Entrepreneur
As a middle-class Black woman in the 1930s and 1940s, Viola Desmond was always a trailblazer. From her early days as a school teacher, her ambition was to set up her own hairdressing business. The first hurdle was training. Beauty schools in Halifax restricted Black women from admission, so she travelled to Montreal, New York and New Jersey to pursue various courses, eventually receiving a diploma from the renowned Apex College of Beauty Culture and Hairdressing in Atlantic City.
In 1937, Desmond set up Vi's Studio of Beauty Culture in Halifax, which became a gathering place for women in the community. But her vision didn't end there. Within a few years, she established the Desmond School of Beauty Culture, which drew students from across Nova Scotia, New Brunswick and Quebec. Another venture—manufacturing and marketing Vi's Beauty Products—was also generating orders from across Nova Scotia. She had made positive inroads as both an entrepreneur and a role model in her community and was an inspiration to her clients and students alike.
Finance minister Bill Morneau says, "featuring a woman on a Canadian bank note is about recognizing the incalculable contribution that all women have had and continue to have in shaping Canada's story. Viola Desmond's own story reminds all of us that big change can start with moments of dignity and bravery. She represents courage, strength and determination—qualities we should all aspire to every day."
Watch the Heritage Minute video below: